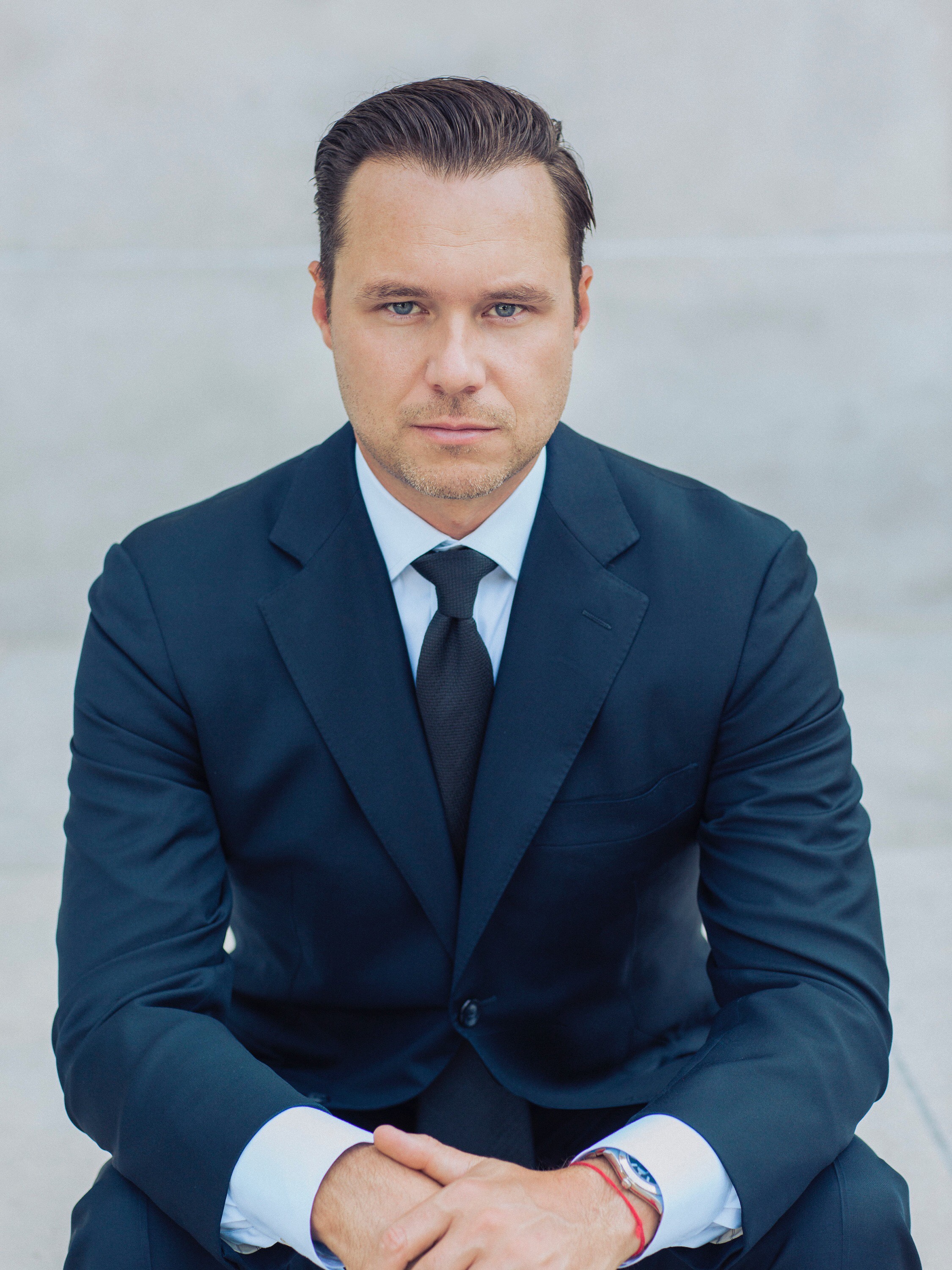 Danny Pfeifer is a nationally-recognized government relations strategist and consultant. He is the founder and managing principal of Catalyst, one of the nation's leading multi-state lobbying firms.

Catalyst has attracted a Fortune 500 and blue-chip client base by fully integrating with its clients and quickly adapting to the rapidly changing environments they face, specifically new or antiquated federal and state regulations that impact private sector innovation at the expense of consumers. Catalyst represents clients that are producing large-scale disruptions in their industries and emerging businesses facing regulatory challenges and marketplace entry barriers.

Since founding Catalyst over 10 years ago, Pfeifer has created a dynamic and fast-growing government relations practice, evolving quickly to his clients' needs in the innovation economy. Founded in Pfeifer's home state of Missouri, Catalyst quickly became one of the largest firm in the state.
Greg Porter is known across the country as one of the leading government relations' professionals in his field. He has cultivated a vast personal network of government officials, their senior staff and the thought-leaders who shape public opinion with over a decade of experience in public service, politics and government relations at the federal, state and local levels.
As a Partner at one of the fastest growing influence management firms in the country, Porter's achievements range from helping clients defeat unnecessary and burdensome regulations, tripling the membership of leading national trade associations and launching effective public policy programs for organizations of every size.
Alex Eaton is a senior member of Catalyst's government relations department where he provides strategic consultation and manages public policy portfolios for the company's clients. With over a decade of experience, Eaton specializes in providing trusted, high-level government relations advice to corporations and trade associations drawing on his extensive experience in government, politics and the private sector.
At Catalyst, Eaton helps spearhead government relations for companies of all sizes, from Fortune 500 to start ups, as well as several non-profits and professional associations.
Becky Lohmann is a government relations specialist with extensive experience helping Catalyst clients achieve their desired results.
Lohmann was named one of The Missouri Times 30 under 30, which recognizes those making a difference in the public policy arena. She can be heard dispensing her expertise on the issues as a co-host of the influential MOLeg Podcast, an arm of The Missouri Times.
At Catalyst, Lohmann has been a key player in helping emerging and disruptive industries take on the status quo.
David Willis is a government relations specialist with more than a decade of experience working in some of the highest leadership offices in Missouri government. David's understanding of the legislative process and trusted counsel is so highly valued he worked for four Speakers of the Missouri House including service as Chief of Staff for Speaker Steven Tilley and Speaker Todd Richardson. This is an unprecedented tenure of service for a leadership staff member in the Missouri House of Representatives.
Serving as chief of staff to the House Budget Chairman, David has a keen understanding of the nuances and details of the Missouri budget having worked to craft budget policy in a wide variety of areas in state government.

Ashley Montenegro
Ashley Montenegro is a government relations specialist for Catalyst based in Washington, D.C. Before joining Catalyst, Ashley served as the finance director for the Republican Attorneys General Association (RAGA).
A well-seasoned government affairs professional, Ashley has managed relationships with over 400 corporate and individual clients throughout her career. As a part of the RAGA team, she helped to more than quadruple their fundraising totals over the past six years. Ashley also provided policy support in areas crucial to the role of state Attorney Generals. In addition to overseeing RAGA's fundraising operations, she provided fundraising and policy support for their policy arm, The Rule of Law Defense Fund.
Well versed in political campaigns, Ashley's political career began in 2011 as she assisted the Republican Party of Florida's Political Department on a series of state-wide down-ballot races. She also worked on campaigns at the presidential level where she headed Mitt Romney's Women for Mitt efforts in Florida as the deputy coalitions director in 2012.
A first-generation Colombian-American, Ashley was born and raised in Naples, Florida. She graduated from Florida State University in 2012 with a Bachelor of Arts in International Affairs concentrating in history as well as a minor in Spanish.
In her spare time, Ashley enjoys helping others in Central and South America through mission work led by her father's ministry, Love and Legacy.
Ashley resides in Washington, D.C. where she enjoys exploring the area with her Golden Doodle, Banks.
Contact Ashley at ashley@catalystgrouponline.com
Cynthia Stern Lynch
Cynthia Stern Lynch is one of the nation's most sought-after experts in understanding how to navigate the often complex terrain of state attorneys general offices. As a government relations specialist for Catalyst, she brings extensive experience working for and with attorneys general across the country and a uniquely informed viewpoint on how these offices work.
With over 20 years of experience in the public and government affairs arena, Cynthia has a deep reservoir of knowledge and relationships that provides Catalyst clients with an edge in helping shape public policies that impact their businesses and industries.
For the past 15 years, Cynthia has worked as a consultant and specialist in government relations with a focus on attorneys general across the nation. Before joining Catalyst, she was a managing director for Eris Group where she focused on advocacy and public policy issues with national and state implications. Cynthia has represented associations with several hundred members from the National Beer Wholesalers to the Recording Industry of America to the Consumer Healthcare Products Association.
Well acquainted with how public policy issues intersect with state attorneys general, Cynthia served as the legislative director for the Rhode Island Office of Attorney General from 2002 to 2004. Her responsibilities included researching and drafting legislation, testifying, coordinating advocacy and managing day-to-day public relations. Her role also included the strategy and analysis of the constantly evolving political climate and how to maximize and promote the office of attorney general.
Cynthia maintains relationships that span across the political spectrum inside the associations that work directly with attorneys general. She continues to work closely with the National Association of Attorneys General, the Conference of Western Attorneys General and the Republican and Democratic Association of Attorneys General.
Cynthia's experience includes public relations consulting, a field in which she has specialized in strategy, analysis, advocacy and media planning with an emphasis on crisis communications and re-branding. Her public relations background includes serving as Vice President of Public Relations for a highly-regulated dining and entertainment venture where she successfully implemented a major re-brand for the project.
After her son, Max, was diagnosed as terminally ill, Cynthia started a Foundation in his memory at Hasbro Children's Hospital in Rhode Island to support families whose children have complex medical needs. She has raised more than $1 million for the hospital's Palliative Care Program. It is the only Palliative Care Program in RI strictly for children. Stern was also instrumental in drafting and advocating for the Palliative Children's Health Care Bill in 2003 while at the attorneys general office, which was the first of its kind in the nation.
Cynthia graduated from Simmons College in Boston with a Bachelor of Arts in Healthcare Management. A certified spin instructor who played tennis throughout college, she loves playing and watching sports, especially the NFL – guess which team. Her daughter, Zoe, is a rising senior at Bucknell University who is preparing for law school. Cynthia resides in Rhode Island with her husband, Patrick, and their two dogs Duncan, a Yellow Lab, and Daisy, a Labradoodle Mix.
Jeni Delacruz - Administrative Support
Jeni Delacruz is administrative assistant for Catalyst playing a vital role in supporting clients and team members. She manages administrative initiatives including scheduling and accounting while also personally assisting members of the government relations' team on behalf of Catalyst clients.
Before joining the Catalyst team, Delacruz served in numerous customer service roles where she was known for her attention to detail and problem-solving skill
Delacruz is deeply engaged in activities with her children's schools and helping with events, fundraisers and projects. In her spare time, Delacruz stays active in her community donating her energy to causes like the Salvation Army Adopt-A-Family for Christmas campaign.
A native of Kansas City, Kansas, Delacruz holds a bachelor's degree in health care administration from Ashford University.